Laiyuan best sale 300w industrial immersion heater
300w industrial immersion heater
Specifications of 300w industrial immersion heater :
1.High-precision electric heating tube
2.High-resistance alloy wire
3.Better heating exchange
Features of 300w industrial immersion heater :
1.We offer standard as well as customized models.
2.We offer different tube diameters like 6 mm, 8 mm, 11 mm, 12.5mm, 16mm & 18mm.
3.We offer different sheath materials. It can be availed in different materials like Incoloy 800, SS 304, SS 321, SS 316,
Copper & Titanium.
4.We offer various shapes as customer demand: immersion heater with flange or screw, explosion proof heater.
5.Various terminal options are available.
6.Various shapes and sizes are available.
7.Durable and has longer life.
How to choose the right material for 300w industrial immersion heater ?
1. Copper Sheath:
Water heating, water solutions non-corrosive to copper.
2. Stainless Steel Sheath:
Immersion in oils, molten salt baths, alkaline cleaning solutions, tars and asphalt. Also suitable for clamping to metal surfaces and casting into aluminum. Corrosive liquids, food processing equipment. Stainless steel 304is the normal material.
3. Incoloy Sheath:
Air heating, radiant heating, cleaning and degreasing solutions, plating and pickling solutions, corrosive liquids. Usually for high temperature.
4. Titanium tube:
Corrosive environment.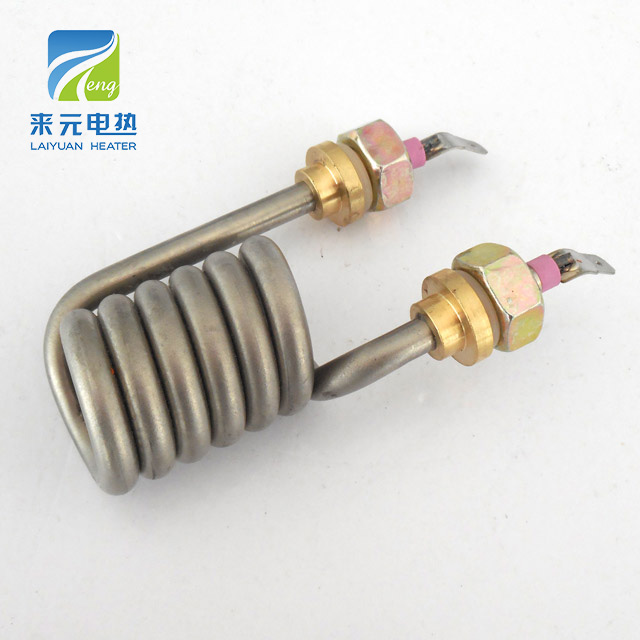 Sandwich maker parts heating element are custom designed in a various shapes to as client's requirements for direct immersion in liquids such as water, oils, solvents and process solutions, molten materials as well as air and gases.
Sandwich maker parts heating element are produced using Incoloy, stainless steel or Copper sheath materials and also there is huge variety of selection of termination styles available. Insulation of Magnesium offers greater heat transfer.
Sandwich maker parts heating element can be used in any application. Straight tubular can be inserted in machined groves for conductive heat transfer and formed Tubular provides consistent heat in any type of special application.
Sandwich maker parts heating element: Plastic processing machineries ;Engineering Industry ;Packaging machinery ;Shoe making machineries ;Foundry Equipment ;Radiant Surface heating ;Hot Runner Mould Systems etc.