These infrared heaters are made out of ceramics. These emitters have a Nichrome (NiCr) wire directly casted into ceramic and they produce temperatures from 300 deg F to 750 deg F. The wavelength produced with at these temperatures is between 3 – 6 microns. They feature a glazed surfaced to avoid for protection from oxidation and corrosion. Typically they need 10 – 15 minutes to reach full operating temperature. A thermocouple can be casted directly into the ceramic. Ceramic heaters come in different colors which may indicate the temperature range. Some of these heaters also change color when hot in order to easily recognize failed elements in a heater bank.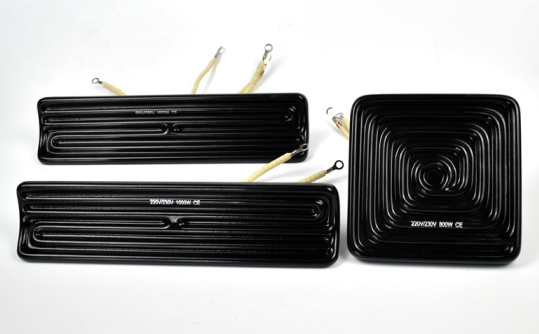 Product Description Features
Heating wire embedded into flat or concave shaped heater creates infrared in either focused or parallel rays.
Ceramic tubes over power lead wire within mounting tower increases the dielectric strength between the lead wire and mounting clip preventing a potential fault to ground.
Ceramic Radiant Heaters also have a heat sensitive (color changing) decal on the front of the heater that gradually changes from red to black as the heater increases in temperature, and it returns to red when cool.
Our ceramic heaters are available in standard white or a yellow temperature-sensitive glaze which changes color when energized. The yellow glaze will start to turn to a butterscotch/brown color at approximately 200°F (93°C). The temperature change occurs between 200-500°F (93-242°C.) We provide these elements with our color changing decal as well which changes from red to black (transition temperature is approximately 400°F (205°C).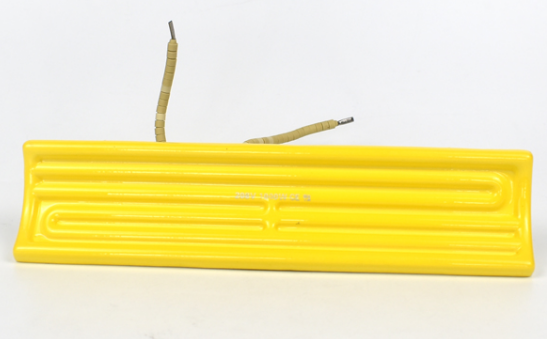 High surface rating
Excellent thermal insulation
Wide operating temperature range
Unique construction design
Premium quality raw materials
High operational efficiently
Exceptional radiation properties Range
Custom Wattage Infrared Ceramic Heaters
Color Changing Infrared Heaters
Super High Temperature Black Infrared Heaters

Applications:
Lamination Industries
Drying Textiles
Shrink Packaging Machines
Rubber Curing
Thermoforming
Plastic Forming
Drying Lacquers and Paints