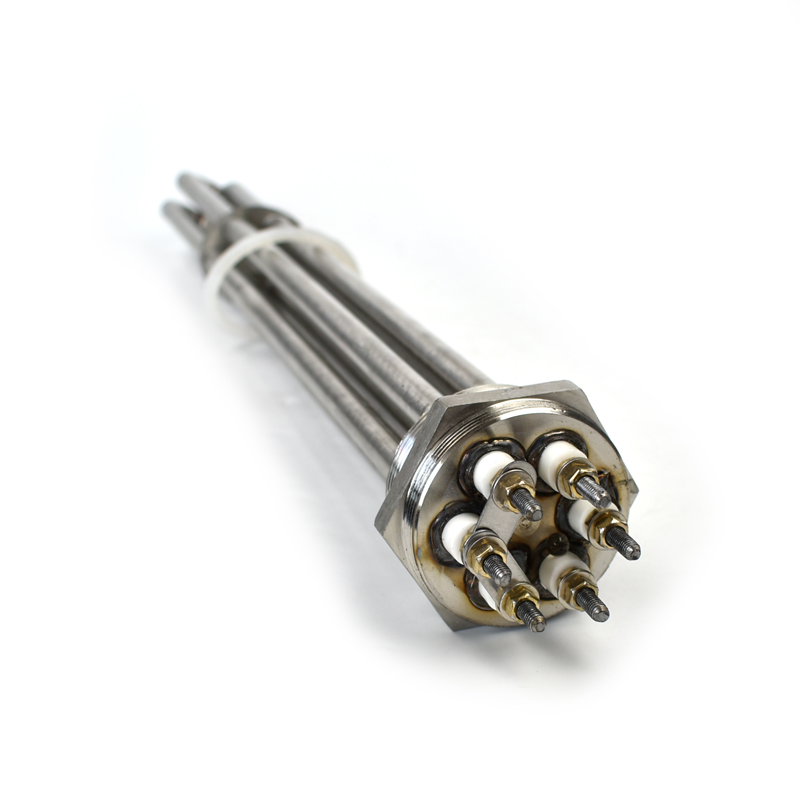 Electric immersion heaters are typically inserted directly into a pipe, tank, or vessel to heat process gases or liquids. Since the heat is generated by electricity, virtually all of the energy is consumed by the product being heated. As a result, the liquid is heated near 100% efficiency. With standard elements constructed of Alloy 800, these heaters are designed to heat a variety of fluids and maintain corrosion resistance.
PROCESS IMMERSION HEATERS & FLANGED IMMERSION HEATERS
An immersion heater is an electric heating apparatus consists of a bundle of tubular heating elements which are submerged in a tank or container to heat a liquid, such as water, oils of various viscosity, viscous materials, solvents, process solutions, liquidous chemicals, and gases. It is designed and used for direct contact heating to increase or maintain the temperature of the fluid to attain required values for process indicators such as temperature, viscosity, pressure, solubility, or miscibility.
Immersion heaters are widely used for many applications such a freeze protection, process temperature and viscosity maintenances, steam generation, chemical reactions, flow control etc. for many industries including oil and gas, water treatment, transportation, agriculture, construction, power generation, and mining.
LAIYUAN HEATER offers standard immersion heater designs as well as customized solutions to meet requirements of most projects. The application and design teams at BRIGHT stand ready to produce the optimized configurations of immersion heaters for your unique applications.
Choosing an Immersion Heater
When choosing an immersion heater, the following specs or attributes are considered:
Styles: For the best mounting or fitting with the container, choose from Flanged, Screw Plug, or Over-the-Side.
Sheath Materials: Sheath material of the tubular heating element is determined by its corrosion resistance property and maximum operating temperature, choose from Incoloy or stainless steel.
Terminal Housing or Enclosures: Based on different levels of ingress protection, choose from Explosion Resistant or Flameproof, Liquid Tight or IP66, or General Purpose.
Watt Density or Power Density: Depends on the medium to be heated, choose a watt density that avoids scorching and carbonization on the surface of the elements.
Total Power Output: Depends on the total volume of the container, the substance to be heated, and how fast the temperature must be increased during star-up.
Dimensionality: Must consider the dimensions, shape, and other features of the container or tank.
Control: Highly recommended, consider thermostat or more sophisticated industrial control panels, depends on the size of the container, and required precision of the process.
Why BRIGHT HEATER Immersion Heaters?
LAIYAUN HEATER designs and manufactures direct immersion heaters with many advantages:
The heating is fast, economical, and virtually 100% efficient since the tubular heating elements are submerged directly in the liquids or gases.
LAIYUAN HEATER immersion heaters are ecologically sound and provide green thermal energy without creating residual discharge or pollutants.
Built-in safety features such a ground fault protection and ingression protection safeguard personnel from electric shocks and fire hazards.
Precise temperature management when fitted with a control ensures process stable and safe, especially for working with flammable medium.
BRIGHT HEATER immersion heaters are designed for very long service life if the heating process falls under the intended or designed application conditions, and necessary periodic inspection and maintenance are carried out.
Low front-end investment cost on the immersion heaters by the optimization of heater system configuration, because BRIGHT HEATER engineering team will not start a design without fully understanding the heating requirement, eliminating the possibility of costly overdesign.
Other benefits include low maintenance, ease of installation, cost effective operation.
Valuable field services are offered for system install assistance, startups and commissioning, trainings on operation and maintenance, and annual and semi-annual inspections. Wirings to the heating elements can be modified in field. Customer satisfaction is at the core of our business.