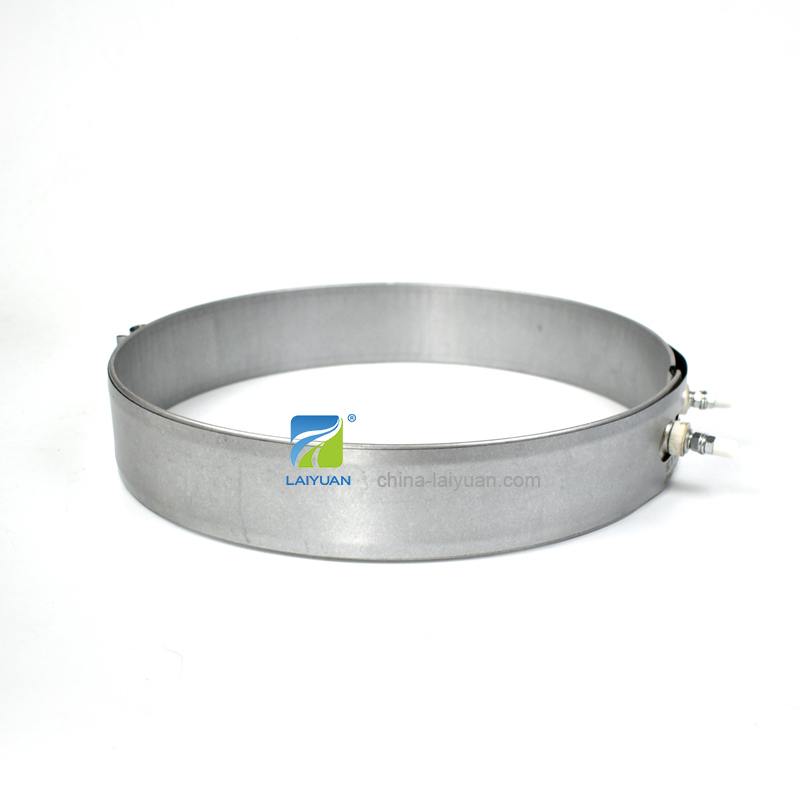 Mica insulated band heaters are installed on cylinder forms such as barrels, pipes and nozzles of injection molding or extrusion machines.
Mica insulated band heaters can be constructed in a variety of dimensions, voltage and wattages with different options such as holes, cut-outs and notches. A number of terminals, wire lead options and terminal boxes offer great flexibility for field wiring. With sheath temperature capabilities of up to 800°F, these heaters are ideal for plastic processing applications.
BRIGHT HEATER adopts a stringent internal quality control system. Every heater is tested for resistance and dielectric.
Applications
Plastic Extrusion
Injection Molding
Blow-Molding
Pressure Molding
Structural Foam
Food Industry
Container Pipe and Tank Heating
Packaging
Chemical, Oil & Gas Industries
Specifications
Sheath temperature: up to 800°F
Maximum watt density: 35 watts/sq. in.
Construction
1 or 2 – piece construction
Expandable one-time
Full expandable
Partial coverage
Reverse band
Square or rectangle
Conical
Exterior material: stainless steel
Interior material: Nickel chrome wire and ceramic fiber insulating material
Minimum standard diameter: 1″ (consult factory for smaller width)
Minimum standard width: 1″ (consult factory for smaller width)
Thickness: 0.205″ +/- 0.003″
Regular gap: 0.375″
Electrical Connections
Post terminal
Fiber glass sleeve
Metal braid (SS)
Armour cable (AC)
Teflon leads
Silicone wire
Ground post
Dual voltage
Low profile cap
3 Phase
Terminal Housing
Terminal box
Terminal block with ceramic block
European plug
European plug with terminal box
Ceramic post covers
Brass cap for heater with different angle lead exits
Clamping Methods
Independent or full strap
Spot welded straps
Built-in barrel nut construction
Spring-loaded barrel nuts
Wedge Lock
Hinges
Latch and trunion
Flange lock-up
Holes
Mounting holes
Notches
Square cut-out
Adaptors and fittings