Tubular Heater offered come with maximum sheath temperature of 620°c and maximum watt density of up to 25 w/in². With choice of moisture resistant terminal enclosure option, these tubular heaters come casted in aluminum metal which makes these provide for broad surface coverage as well as meet the demands of uniform heating. We can also offer these in customized construction options in terms of recommended watt densities, corrosion guide, sheath temperature limitations and other parameters. Some of the applications these are used in include in Plastic industries, for high vacuum applications, for baking, for curing of plants enamels. These can also be factory formed even to small bends of one element tube diameter.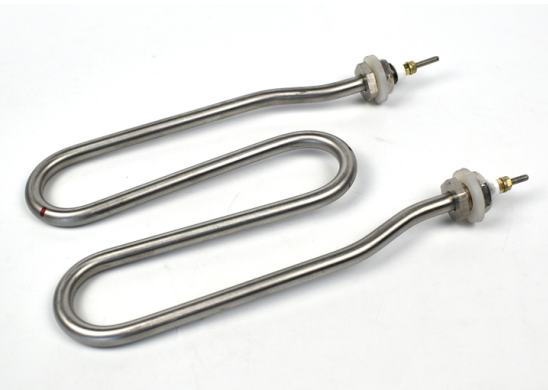 Features:
Maximum Sheath Temperature: 620°C.
Watt density : Max up to 25 w/in²
Heating element in Copper (nickel plated), SS304, SS316, SS316L, Incoloy, and Lead/Teflon Coated Sheath Materials.
Moisture resistant/explosion resistant terminal enclosure option.
Tubular heaters can be factory formed to practically any shape, sometimes to bends as small as one element tube diameter.
Magnesium Oxide, MATRUSREE uses only 96% pure MgO, the highest grade available for electric heating elements.
Tubular Heating elements may be Bracket Mounted, clamped, Thread Nipple fitted, Flanged, casted into metals, Fitted with terminal box or spaced away from the work as radiant heaters. Elements can also be positioned in ducts or vessels for heating air or other gases.
Tubular Heaters can be Finned. see Finned tubular heaters.
Available in 0.318" (8.1mm), 0.430" (11mm), 0.551" (14mm), 0.625" (15.8mm), 0.669" (17mm), 0.748" (19mm) element diameter.
Several wattage and voltage combinations are available.
Easy to install.
Excellent internal electrical insulation and heat conduction.
Electrically isolated sheath.
Construction:
The cutaway view of a typical MATRUSREE's tubular Heating element shows its basic construction. A coil of the highest-grade resistance Wire (80% nickel, 20% chromium) is precisely centered in a heavy gauge metal tube while the tube is filled with granular magnesium oxide powder. Terminal pins are Screwed / welded or silver soldered to the resistance coil at each end to provide an unheated length near the terminals and to secure the coil in the magnesium oxide. Through Swaging, the diameter of this assembly is reduced and the magnesium oxide compacted, insuring rapid heat transfer from the coil to the sheath, as well as high dielectric strength. After compaction, the element is processed in one of three Ways:
Straight length elements are sealed and appropriate terminals applied.
Formed elements are annealed and bent before they are Sealed and terminated.
Finned elements are wound with a helical fin before they are sealed and terminated.
Application:
In Plastic industries, domestic applications, high vacuum applications
Suitable for efficient baking.
Curing of plants enamels, lacquers and adhesives.
Tubular heaters are cast into aluminum for broad surface coverage and uniform heating application requirements.